Sussex Websites: Winners of the Prestigious IMA Global Award for Outstanding Website Design 2014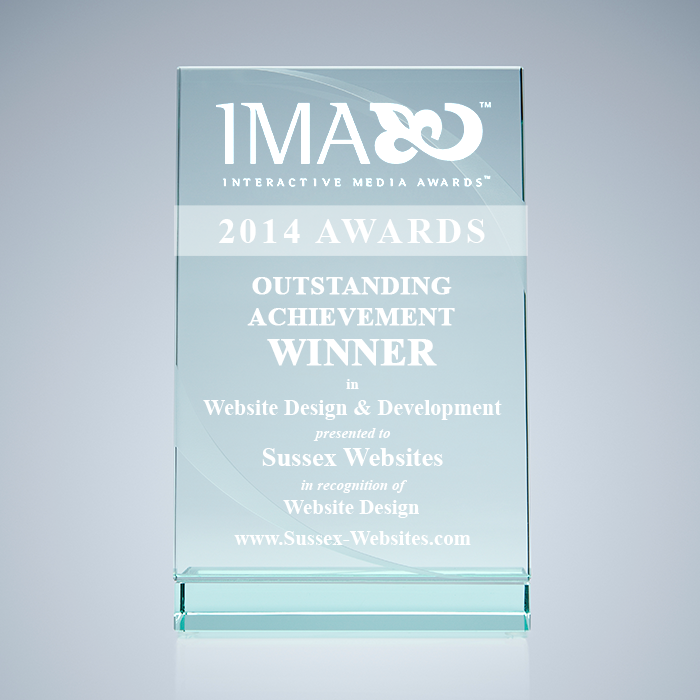 We're very proud to annouce that today we were named as winners of the coveted IMA Global Award for Outstanding Achievement for Website Design and Development.
The honour recognises that the project met and surpassed the standards of excellence that comprise the web's most professional work. The company was honoured specifically for digital excellence in the main Website Design and Development category, beating 378 other global agencies.
In a note of congratulation, an IMA spokesman told the Horsham-based digital marketing agency: "The Outstanding Achievement award bestowed by the IMA is an extremely challenging award to win. Your entry has excelled in all areas of our judging criteria and represents a very high standard of planning, execution and overall professionalism."
The IMA or Interactive Media Awards were set up by the Interactive Media Council (IMC), which is a global not-for-profit organisation run by web professionals and is based in New York. The awards were created to promote high standards and increase internet excellence.
The members of the IMC include experts and leading figures in the digital industry, with expertise in areas including advertising, corporate communications, website design, publishing, accessibility, standards, usability engineering, privacy protection and e-commerce security.
The judging consisted of various criteria, including design, usability, innovation in technical features, standards compliance and content. In order to win this award level, the site had to meet strict guidelines in each area - an achievement only a few of the websites in the IMA competition earn.
Ronald Ong, Founding Director & CEO of Sussex Websites, said, "This award is further validation that Sussex Websites is a globally recognised leader in the industry, able to develop and create outstanding online solutions. Being granted entry to such an exclusive club by the IMA is testament to the true standards of digital excellence by which Sussex Websites operates."